Wo Energie fließt, ist auch Leben. Denn Energie ist Leben.
Hungarian MOL Group selects CBX for new Convenience-Store Design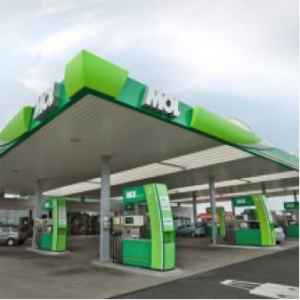 The New York based brand agency and retail design consultancy CBX has been retained by MOL, the Budapest, Hungary-headquartered oil and gas corporation. to consult on a number of design and strategic initiatives.
Over the years, MOL Group's store count has grown through acquisition. As a result, the company consist of a group of brandes networks doing business under a number of nameplates. While the company has already developed a design solution to unify its forecourt, pumps and canopy design, CBX was charged with creating a flexible store prototype for MOL's expansive network of service statons. "We will be working to create a disign that respects and reflects the cultures, languages and geographies of MOL Group's diverse trading area", said veteran c-store designer Joseph Bona, CBX president of branded environments.
Beyond design and diversity, CBX teams will assist MOL in developing criteria for scalability, helping the company determine what size store and product mix are best suited to the demographcs of a particular market or locale. In connection with that, the firm will work with MOL to develop an overall c-store offer. This will include food-to-go fare as well as traditional c-store offerings.
About CBX
CBX specializes in creative marketing services including: branding, retail design, packaging and promotional programming. The company, with its current staff of more than160 employees, was founded in 2003 and has a client base that includes also: Dr. Pepper Snapple Group, General Mills, Kimberly-Clark, Scotts Miracle-Go. In addition to its New York City headquarters, CBX has offices in Minneapolis and San Francisco. CBX was named a "Design Firm of the Year" in Display & Design Ideas magazine's 2013 Portfolio Awards.
About MOL
MOL Group is an integrated, independent, international oil company, headquartered in Budapest, Hungary. It has operations in over 40 countries and employs almost 29,000 people worldwide. MOL's exploration and production activities are supported by more than 75 years' experience in the hydrocarbon fields. The group operates four refineries and two petrochemical plants, under integrated supply chain management, in Hungary, Slovakia and Croatia. MOL Group also owns a network of over 1,700 service stations across 12 countries in Central & South Eastern Europe.